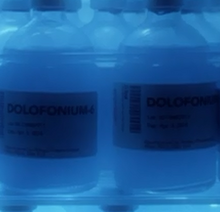 Dolofonium-6 is the powerful drug therapy used to Anax a Homosuperior and give them the ability to kill.
It's chemical compound accesses the process area in the brain where a homosuperior's so-called prime barrier is located, frying it out.
When first put into testing, it killed many homosuperiors, only successfully anaxing two, Killian McCrane and John Young, circa 2008.
Killian was "cooked" by the drug, mentally unstable and in open rebellion, wanting to cause chaos and destruction in his wake.
John seems to have experienced no side effects other than the intended of being able to kill, though he has expressed that when he kills someone, "you lose a part of your soul. That you don't get back".
It appears that the project was reworked in a way that by 2014, subjects had a higher survival rate, churning out paranormal kill squads under the direction of Hugh Bathory.
It is theorized by the fandom that the key to surviving being Anaxed is to have the right mentality going into it. Jedikiah told John that he would be a perfect candidate, which could have been because of his drive and ambition to be the very best agent.
Community content is available under
CC-BY-SA
unless otherwise noted.