Errol was one of The Tomorrow People who was imprisoned at The Citadel. 
Biography
Edit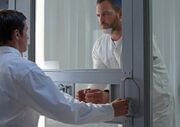 In The Citadel, Errol is imprisoned in the Citadel. He breaks out with the help of a fellow prisoner. He is killed by Jedikiah while protecting Cara and a young girl named Charlotte.
Personality
Edit
Physical Appearance
Edit
TBA
Relationships
Edit
Telekinesis - The ability to move objects and people with his mind. He had honed this skill one of the more powerful telekinetics shown on the show.
Telepathy - The ability to hear the thoughts of others and project the thoughts of onself. Errol had the ability to push people out of his mind which is an extremely advanced form of telepathy.
Teleportation - The ability to instantly transport oneself and others to another location.
Appearances (1/22)
Edit
TBA
Community content is available under
CC-BY-SA
unless otherwise noted.